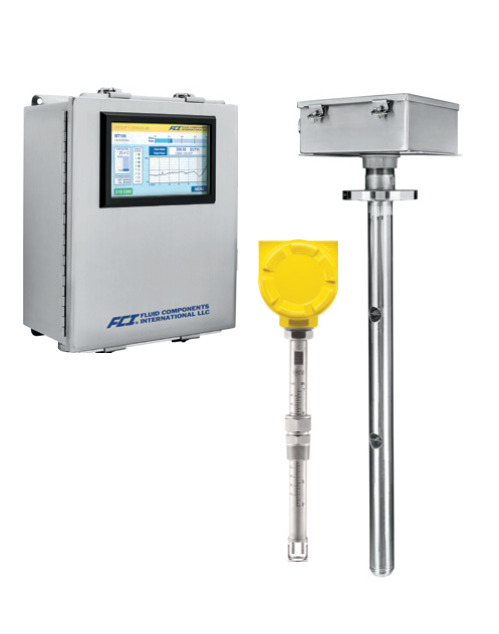 The MT100 Series is an insertion type, multipoint thermal flow meter specifically designed for large diameter pipes, such as stacks, industrial chimneys, and flues, and large rectangular ducts, such as air feed intakes and HVAC. These large pipe/duct applications are difficult for ordinary flow meters because of distorted flow profiles and lack of straight-run that can lead to inaccurate and non-repeatable flow measurement. FCI's MT100 places up to eight (8) flow sensing points in the flow stream and averages them which results in a highly accurate and repeatable flow rate measurement. Unlike other large pipe flow meters, the MT100 has no moving parts or orifices to foul or clog. The insertion design, in the same plane, makes them an easy and lower cost solution to install.
There are solutions for use in fluid temperatures up to 850°F [454°C]. There are optional functions that are designed specifically to meet and comply with US-EPA CEM's and EU AMS per EN 15267 (QAL1) emissions monitoring and reporting regulations. The electronics feature dual 4-20 mA outputs with HART and Modbus and, optionally Foundation Fieldbus or PROFIBUS, a best-in-class touch type, large digital + graphical LCD display, data logging, calibration self-checks and easy access to wiring. Transmitter enclosures are highest quality, corrosion resistant stainless steel.
The MT100 Series multipoint thermal flow meters are your solution for large diameter pipe and air ducts pplications.