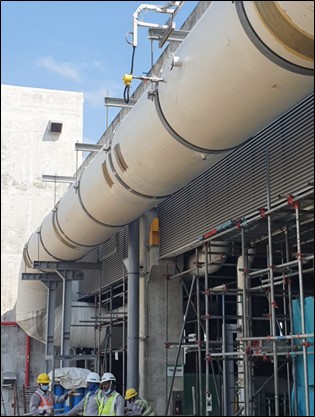 In wastewater treatment plants, wastewater is mixed with a culture of micro-organism known as activated sludge in the aeration tank. The micro-organism absorbs and breaks down the organic pollutants in the wastewater. In order to sustain the biological activities in the aeration tanks, a certain level of dissolved oxygen has to be maintained in the used water. This is achieved by blowing air through air diffuser domes placed at the bottom of the aeration tanks to create fine air bubbles in the aeration tank.
Source: https://www.pub.gov.sg/usedwater/treatment/usedwatertreatmentprocess
With the installation being in such a large line, an in-situ calibration was required to ensure an acceptable accuracy.
Examples of process conditions:
| Flow | Temperature | Pressure | Pipe Size/Type | Accuracy | Model |
| --- | --- | --- | --- | --- | --- |
| 130000 NCMH | Atmospheric | Atmospheric | 1650mm FRP | ±3% after in-situ | ST80 |
| 200000 NCMH | Atmospheric | Atmospheric | 2700mm FRP | ±5% after in-situ | ST102AA |
FCI's ST80 and ST102AA were configured with a Profibus PA communications board for this application.
The remote display option allow the monitoring of these flow meters by operators from the ground as the meters in this application were installed at height. With periodical maintenance procedures set by the end user requiring the removal of the sensors for inspection and cleaning, a packing gland helps to facilitate this without disrupting the process.
Both models ATEX approved Ex d enclosure prevents any potential issues stemming from the electronics escalating into a major disaster as this the installation is in a classified hazardous area.
Related Equipment